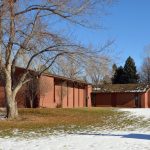 From all of us at Greenwood Community of Christ, you are welcome here regardless of where you find yourself along life's journey. Our activities and programs are designed to enrich your spiritual life. We are committed to sharing God's love with all and working to end the sources of division in our world. We invite you to join us in this mission.
Use the links on the right to learn more about us. Click on the links below to sign up for our weekly email update, to ask a question, or to get directions.
If you are looking for a place to worship, join us for our Sunday morning service which begins with community time at ten forty-five. If you need directions Click Here.